The Best Pickup Trucks to Buy
Whether it is a trip to the construction site or the opera, a pickup truck is a versatile companion for work and play. If you live out in the beautiful countryside and need a full-size or heavy-duty truck to haul or tow, or you require a smaller midsize truck to accommodate your city living lifestyle—you'll find it here. Check out the amazing deals and offers below.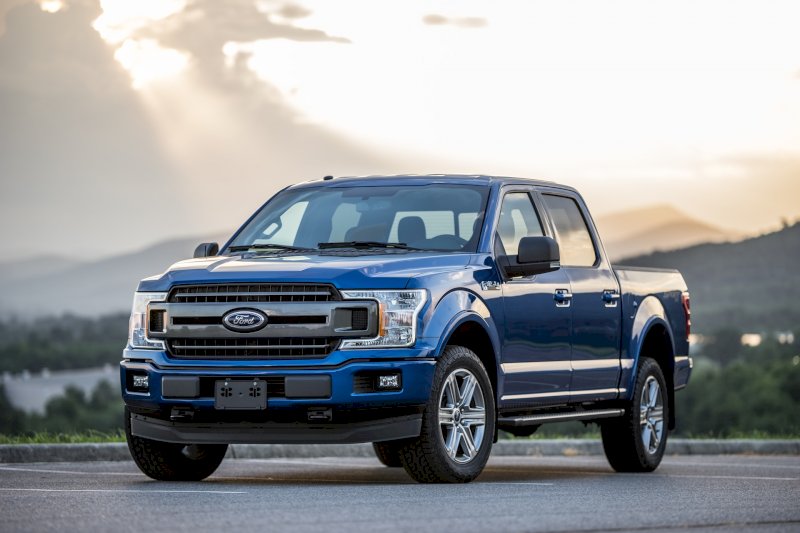 10. Nissan Titan
Looking for something different that can do it all? Check out the Nissan Titan. You can choose from five different trim levels across the 2017–2020 model years, so there is a Titan for everyone. The 2020 Nissan Titan features a standard 5.7L engine with 400 hp (390 hp for 2017–2019) paired with a nine-speed automatic (seven-speed for 2017–2019). For 2017–2019, you can expect great standard features on the base model Titan S.
9. Ford F-250
Another great heavy-duty truck arrives at ninth on our list of best pickup trucks for 2020. Available in five different trim levels for model years 2017–2019, and six trim levels for 2020, the F-250 is an impressive truck. With a mix of cab styles and bed lengths, plus standard RWD or optional 4WD, the F-250 is a beast, with big features.
8. Chevrolet Colorado
If a full-size truck is just too big for your needs, take a look at the great Chevrolet Colorado. It's a midsize pickup truck featuring a variety of trim levels as well as the choice of 2WD and optional 4WD. The base 2019 Colorado is equipped with the 200 hp 2.5L four-cylinder engine and an optional 308 hp 3.6L V6. Trim levels across 2017–2020 model years include the base, WT, LT, Z71, and ZR2 off-road.
7. Toyota Tundra
Toyota makes a ton of great vehicles, but the full-size Tundra pickup is their biggest. Like the Titan, the 2020 Toyota Tundra offers a single 381 hp 5.7L V8 engine, and for 2017–2019 models you could also opt for the base 310 hp 4.6L V8. For the 2017–2020 model years, there are six great trim levels to choose from including SR, SR5, Limited, TRD PRO, Platinum, and the high end 1794 Edition. For 2018, the TRD PRO was not available, but you could opt for a TRD Sport package.
6. Nissan Frontier
Coming in at number six on our best pickups for 2020 list is the midsize Nissan Frontier. If you live in a more crowded location but need the practicality of a truck, the Frontier should definitely make your shopping list. Between the 2017–2019 model years, the Frontier comes equipped with a standard 2.5L four-cylinder with 152 hp or an optional 261 hp 4.0L V6.
5. GMC Sierra 1500
The GMC Sierra 1500 is a jack-of-all-trades truck that can be configured for the job site or a night out on the town. So whether you are looking for practicality or luxury, the Sierra 1500 is a great option. For 2017–2018 model years, you can choose from a standard 285 hp 4.3L V6, an optional 355 hp 5.3L V8, or a 420 hp 6.2L V8. GMC also recently added a 3.0L turbocharged six-cylinder with 310 hp (2019–2020) and a 3.0L inline-six turbocharged diesel engine putting out 277 hp (2020 only) to the extensive engine list.
4. Toyota Tacoma
With its rugged outdoor lifestyle looks, the Tacoma makes the most of its size. As part of its third generation, 2017–2019 Tacomas are available in six trim levels: SR, SR5, TRD Sport, TRD Off-Road, Limited, and TRD Pro. You can choose between the standard 2.7L four-cylinder, which produces 159 hp, or the optional 278 hp 3.5L V6 engine. The Tacoma is available with a variety of cab options and either RWD or 4WD.
3. Chevrolet Silverado 1500
Coming in at number three on our list is the Chevrolet Silverado 1500. The Silverado 1500 was completely redesigned for the 2019 model year and 2019–2020 trucks come in eight trim levels including Work Truck, Custom, Custom Trailboss, RST, LT, LT Trailboss, LTZ, and High Country. The base Silverado 1500 comes standard with a 285 hp 4.3L V6, with optional upgrades available to a 2.7L four-cylinder with 310 hp (2019–2020), a 5.3L V8 engine with 355 hp, and a 6.2L V8 engine with 420 hp across 2017–2020 model years.
2. Ford F-150
At number two on our list is the do-it-all Ford F-150. Suitable for the job site, the valet stand, or even a challenging off-road course, the F-150 has a trim level for you. The F-150 was brand new for 2018 and all 2018–2020 F-150s come with a wide variety of engine options including a 325 hp 2.7L EcoBoost® V6, a 290 hp 3.3L V6, two 3.5L EcoBoost V6 engines (375 hp and 450 hp), or a 395 hp 5.0L V8. The 2017–2020 F-150 is available on a ton of different trim levels including the base XL, XLT, Lariat, King Ranch, Platinum, Limited, and the super cool off-road-ready Raptor.
1. Ram 1500
This is it, the number one spot on our list of the best pickup trucks to consider in 2020! The Ram 1500 is a fantastic entry, and this full-size truck is totally redesigned for the 2019 model year. The previous-generation 2017–2018 Ram 1500 comes standard with a 3.6L V6 with 305 hp and has optional engines including a 3.0L diesel V6 rated at 240 hp, and a 5.7L with 395 hp. The 2019–2020 Ram 1500 comes standard with a 305 hp 3.6L V6 mild-hybrid engine, a 260 hp 3.0L turbodiesel V6 (2020 only), or you can opt for a 395 hp 5.7L V8, which also comes in an eTorque mild-hybrid version